For a long time I've paired my outfits with simpler and more classic items. I don't like to label myself as minimal because as indecisive as I am, I know one day I will want to try something else. I've always stuck to basic items with solid and neutral colors. This fall, something inside me itches to try something new. You know, like you've had black coffee every day for the last two weeks and you just want to try that new salted caramel mocha. You can also tell from my Instagram feed that I've incorporated different colors and textures – my salted caramel mocha!
Stepping out of comfort zone can be scary, but also fun at the same time. It's like welcoming strangers into my life – can be terrifying and/or exciting.
The two outfits I've got here both have items that I would not have chosen before. I've always believed that as we ride along our lives, we must be able to flexibly welcome changes in life. I am glad to say that I am finding these new colors and textures treating me well. They sure have a spot in my fall wardrobe.
Alright, here we go. This first outfit has a versatile check shirt that can be worn as a light layer, with leggings or tucked in as a shirt. I've always dressed casually and effortlessly so putting this shirt on as the light layer works the best for me. I am also looking forward to simply pairing this shirt with leggings errand running. One good thing about being petite is that I can pretty much throw anything over leggings and call it an outfit, haha!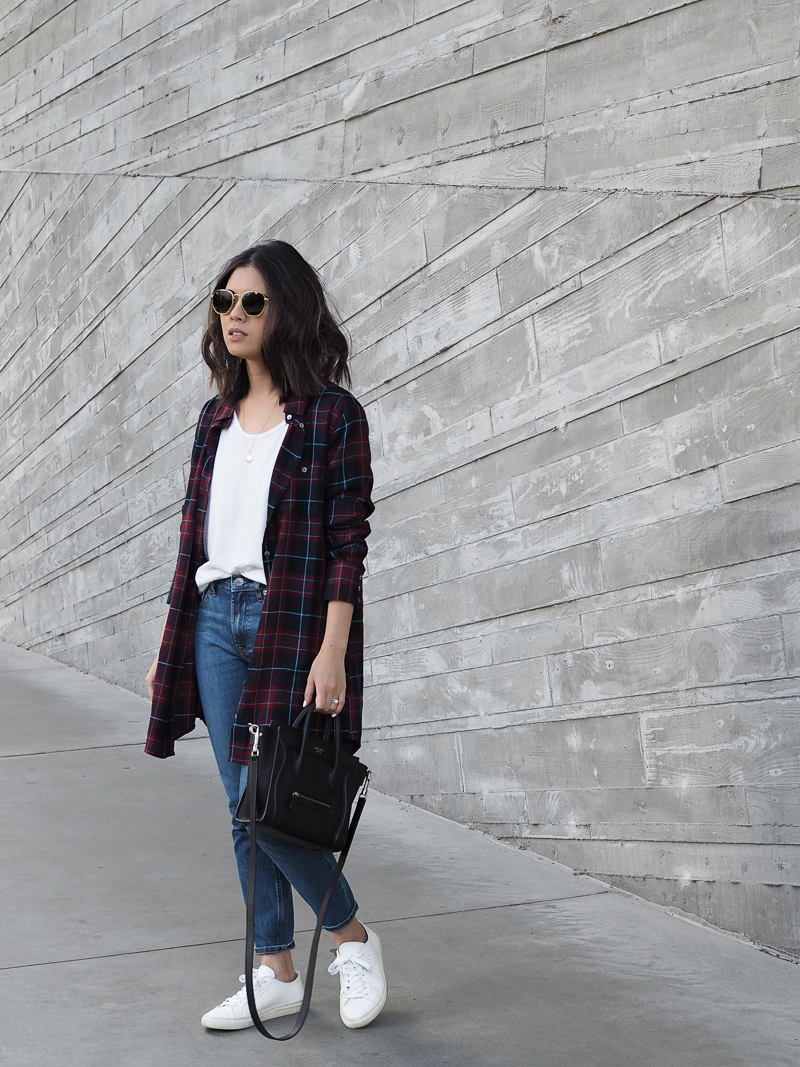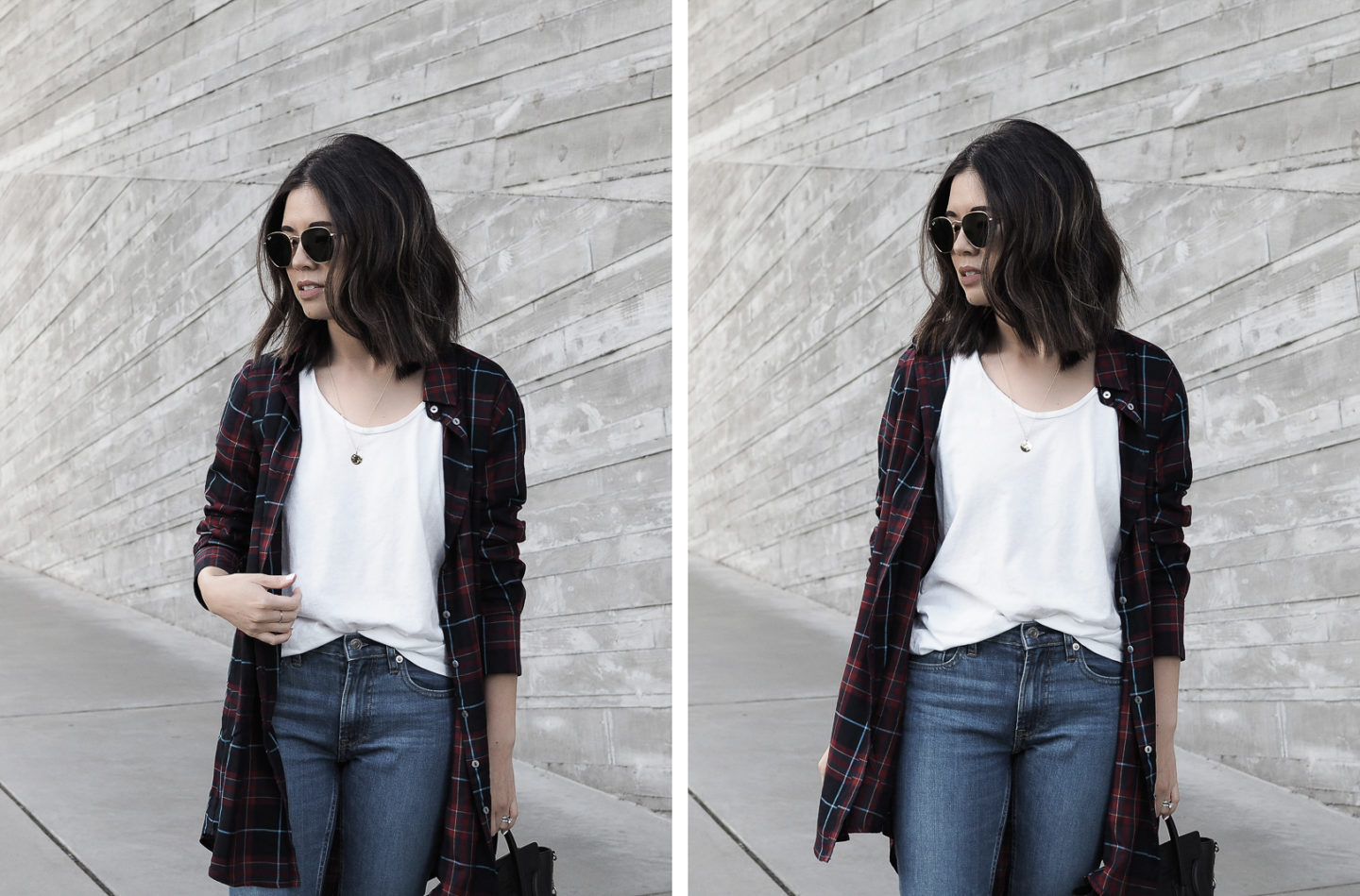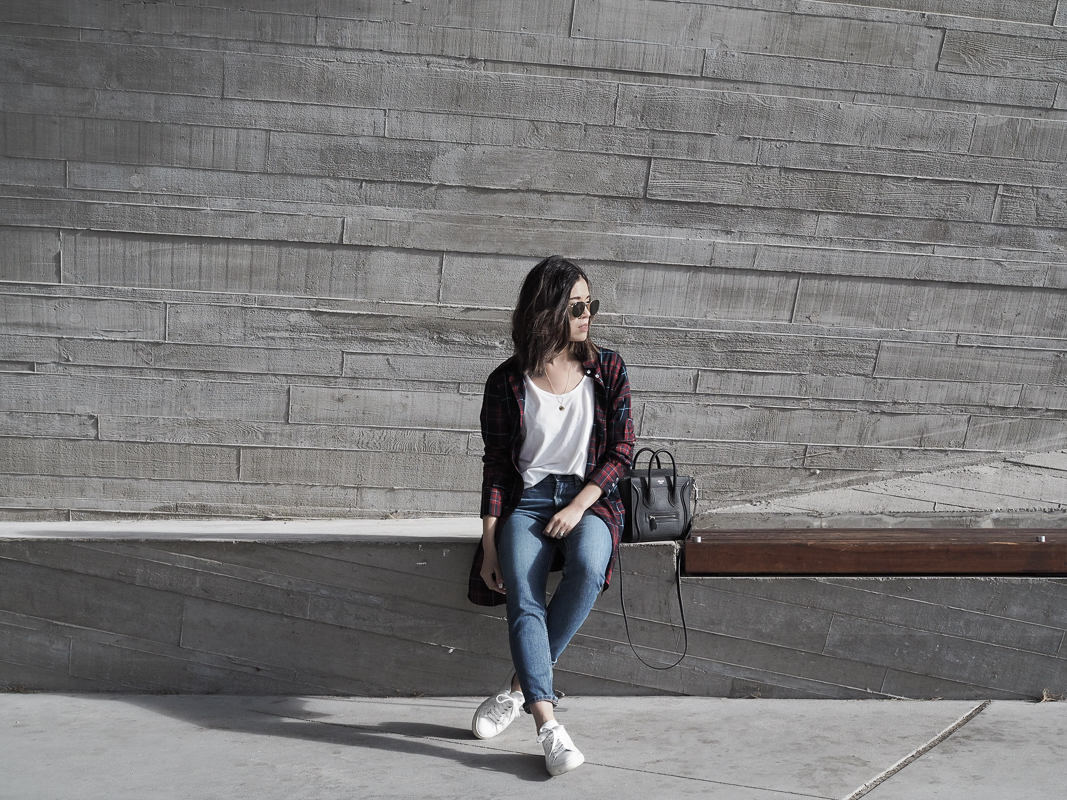 NOW, this pair of trousers. Oh MY GOD! Is it ever SOFT!? These trousers are made with soft jersey with elasticated waist. It is as comfortable as wearing PJs but even better, it looks so stylish! They are petite friendly too. I did roll up the hems a little to show some ankle (a tip for petite gals, showing ankles makes you look taller!). The elasticated waist makes these trousers the best festive companion. Why? Because you can stuff your face with food and yet be comfortable and stylish! Does it get any better than that? I think not. I wore these to my Thanksgiving turkey dinner and needless to say, I feasted on the big bird and mashed potatoes.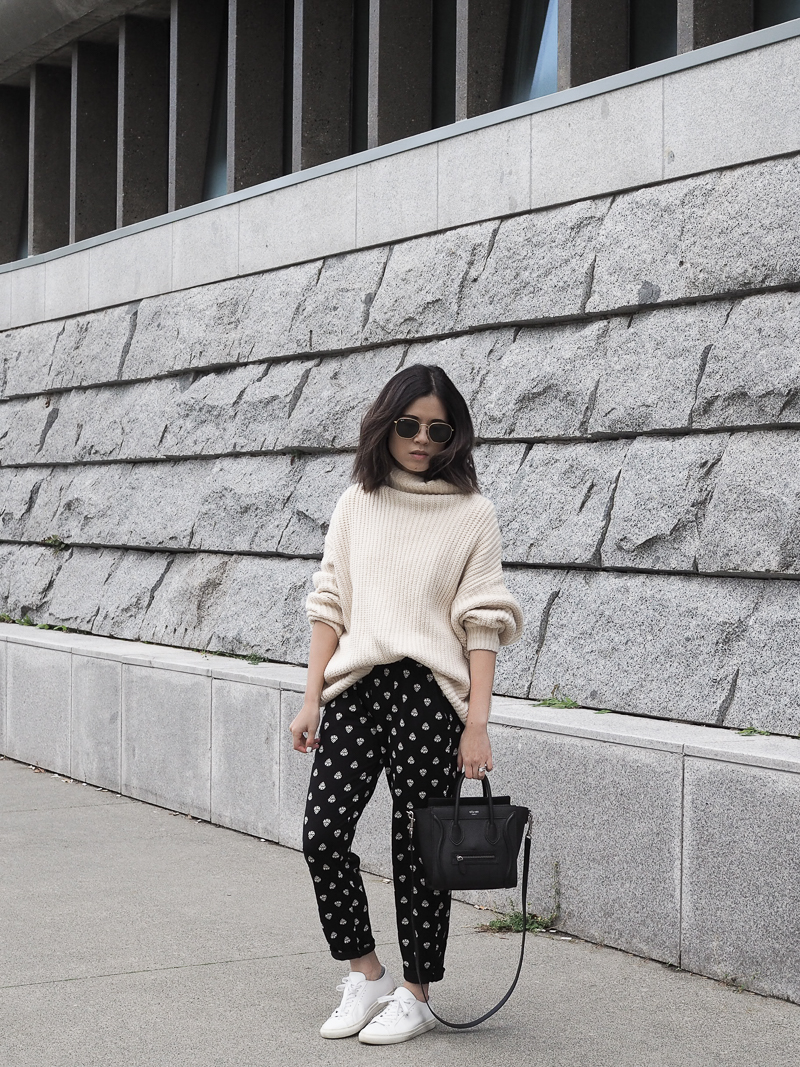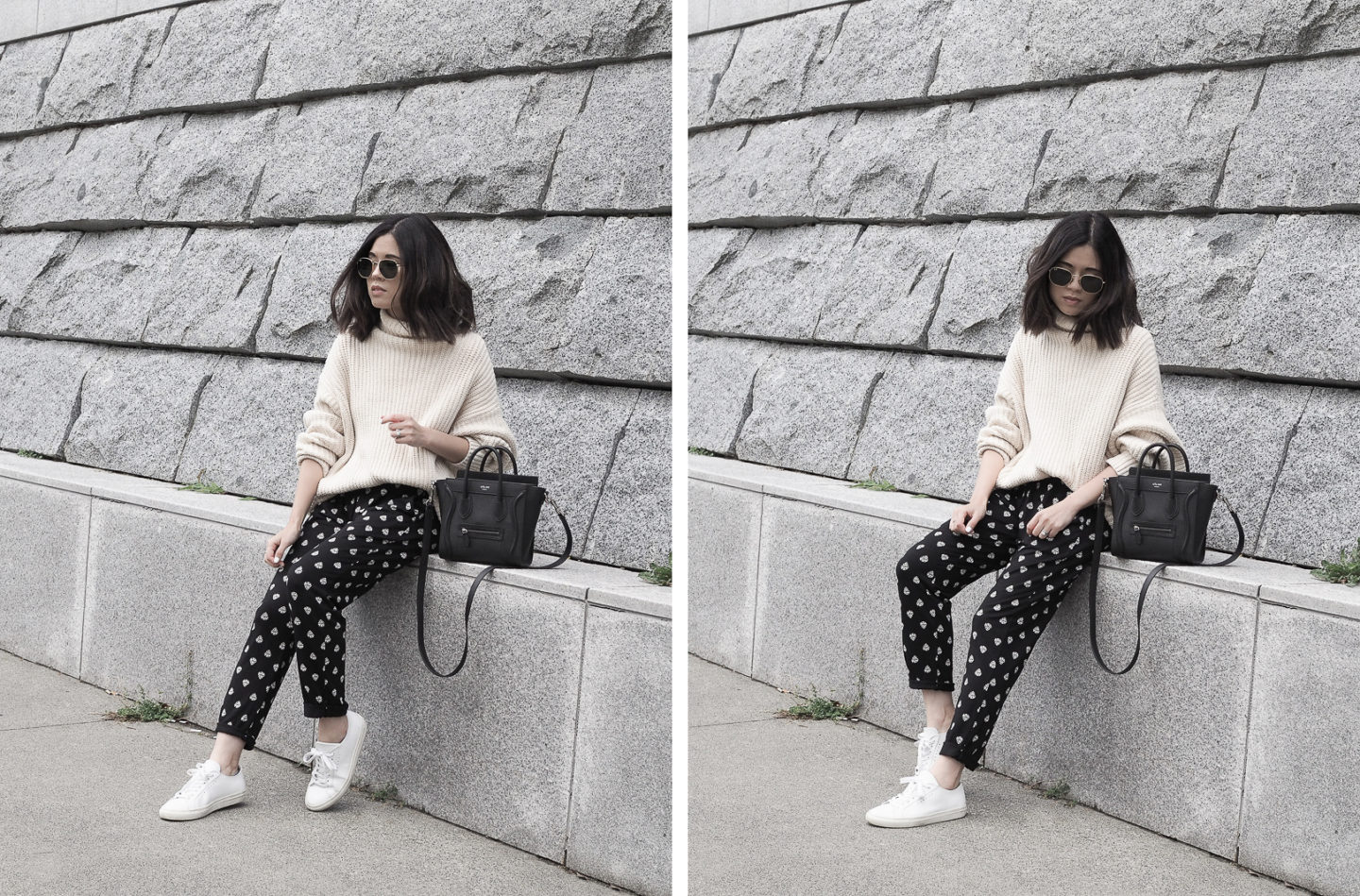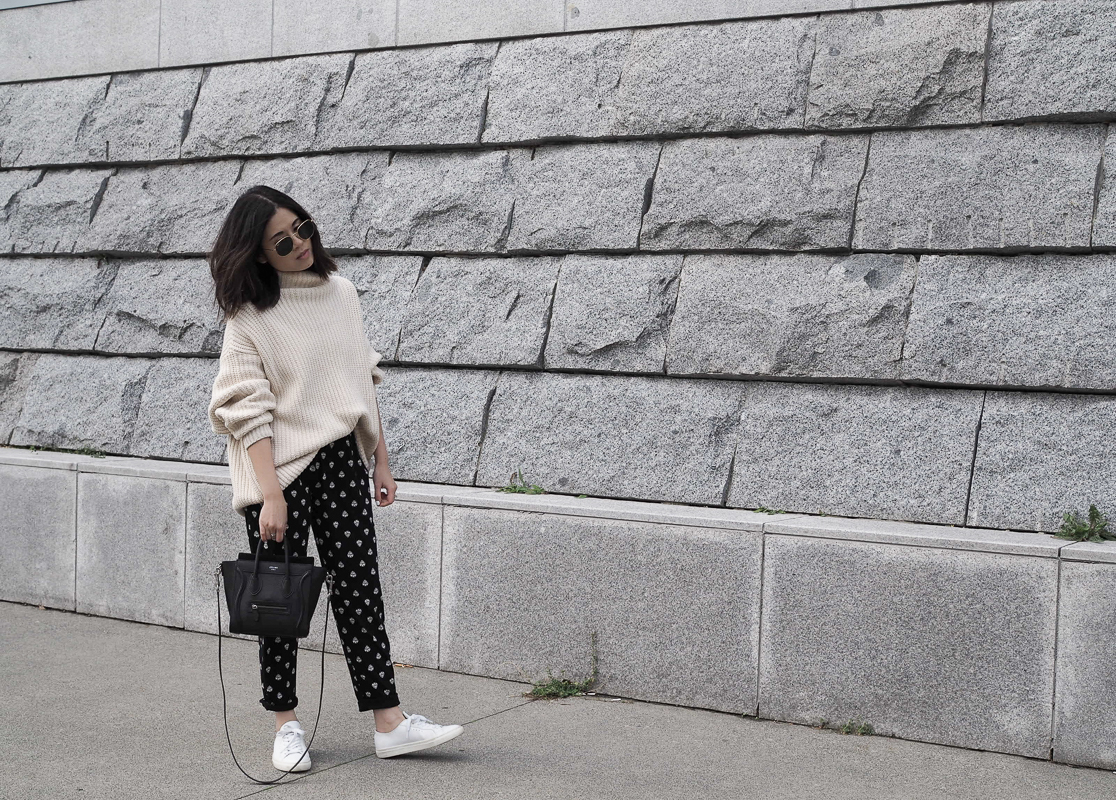 If you are not sure how to pair these patterned clothes (tops, bottoms or dresses), follow this rule – pick a color in the pattern to be the color of the counterpart item. For example, here the trousers' pattern is black and white. I simply picked a white-ish top to pair with the trouser. This way, the outfit will look put together as the colors from the top and bottom correspond to each other, and the outfit will not look too busy.
Also, you can use code HOG20 for 20% off on full priced item at Baukjen! DM me if you have any questions on their sizing. 🙂

DETAILS.
Outfit 1 –
Check shirt:  Baukjen
Tee: Everlane
Jeans: Everlane
Bag: Celine 
Sneakers: Filippa K, very similar here with a better price!
Necklace: Mejuri (use code "Irene" to get $20 off!)
Outfit 2 –
Sweater: Free People
Trousers: Baukjen
Sneakers: Filippa K, very similar here with a better price!
Bag: Celine
Thanks to Baukjen for sponsoring this post. 🙂