I'll get right to the point. The world of fashion has begun to pay attention to the effect of fast fashion. Fast fashion is a term that retailers use when they move clothing designs quickly from the catwalk to stores with fast manufacturing at an affordable price. As a result, overseas manufacturers hire staff members unethically, pollute the environment and/or create societal problems.
In the recent years, there have been many sustainable brands born focusing on producing sustainable clothes – they source manufacturers that pay living wages, follow environmental regulations and hire ethically. These trends have coined the term slow fashion, being the opposite side of fashion.
Maybe you've heard about slow fashion before, maybe you have not. This is something I've wanted to talk about since starting this blog. Read along to find out how I do slow fashion:
Really think before you make the purchase. Whenever I find myself craving for certain items (e.g. winter coats, booties..etc), I sleep on my urges, for many many nights. I think about whether it'd be a smart purchase, how I'd pair it, do I really want it, and most importantly, how sad I'd be if I hadn't bought it. I would only decide to buy something if it really resonant with me. Impulse shopping is never really my thing.
Start with sustainable brands. As a result of sourcing sustainable suppliers, most sustainable brands have a higher price point. I start my hunt with responsible brands to see if I can find something that is both ethically made and fits my budget – sometimes I can and sometimes I can't.
Trendy, or tacky? I generally stay away from items that are too trendy. These items generally don't have very long wardrobe lives. I am not a fan of getting items that only last only one or two seasons. But fashion is all about having fun and trying on new things, it's great to get stylish items once a while but it's also a good idea to keep in mind of their short wardrobe lives.
Mix and match is the key. Those staple items in your wardrobe are the workhorses. They are the foundation of mixing and matching, which is a great way to bring new life to old items. You can create a folder to save all outfit inspirations from your favorite bloggers for those days when you feel like you have nothing to wear (which is pretty often…. yea I feel you!)
Be nice to your clothes. Because I put in a lot of thoughts before making a purchase, I LOVE each and every piece of my clothes. I treat them like my babies – wash them by hand, dry them gently, avoid too much wear and tear…etc. I will write another post about what I do to care for my clothes. But putting the effort into caring for my clothes definitely pays off – they stay new-looking longer!
I feel that the best way of doing slow fashion is to just be mindful of your purchases and try not to impulse shop. It may sound difficult at first but it might save you some $$ in the long run. Do you have any unique ways of doing slow fashion? Let me know in the comments!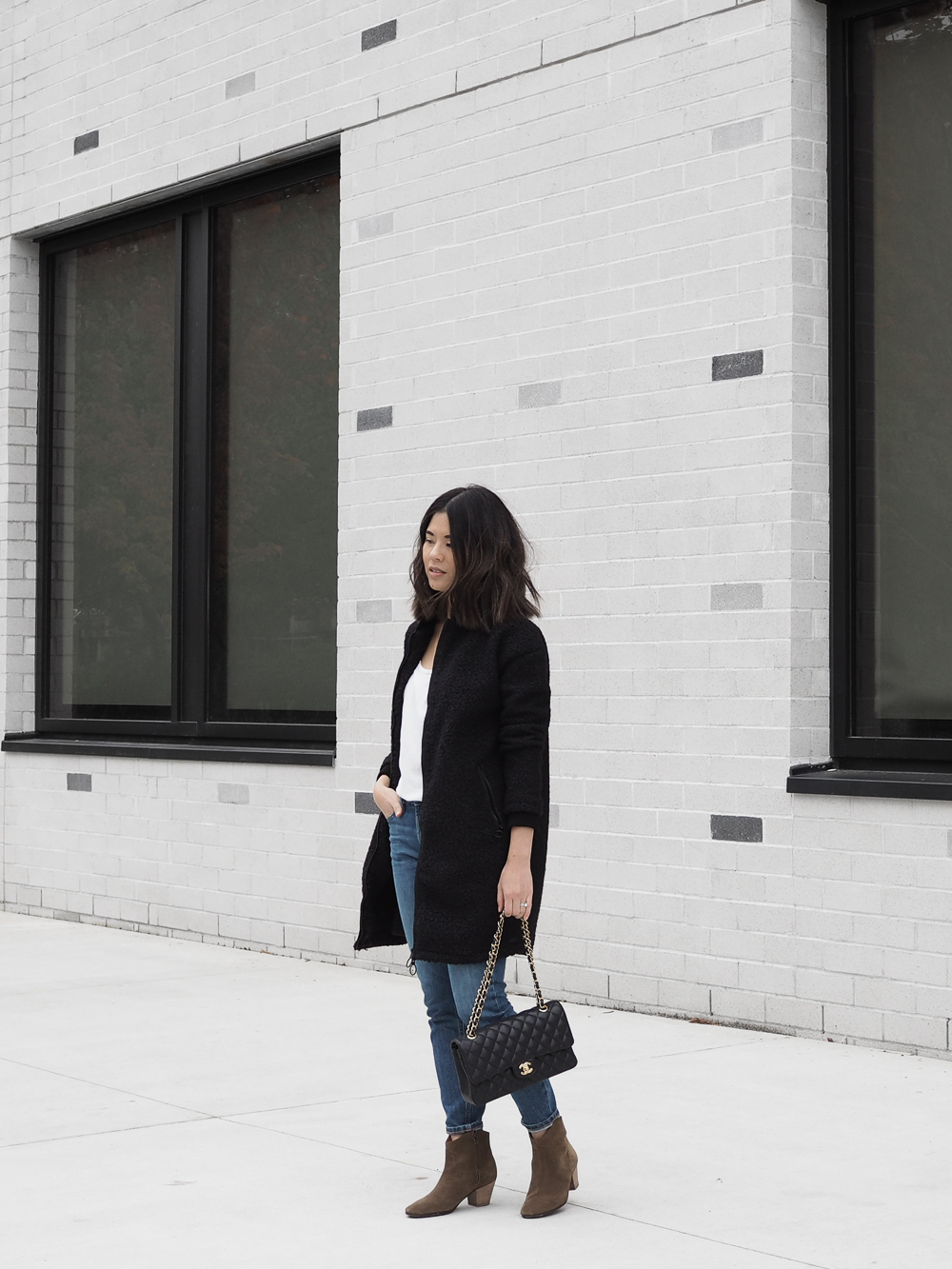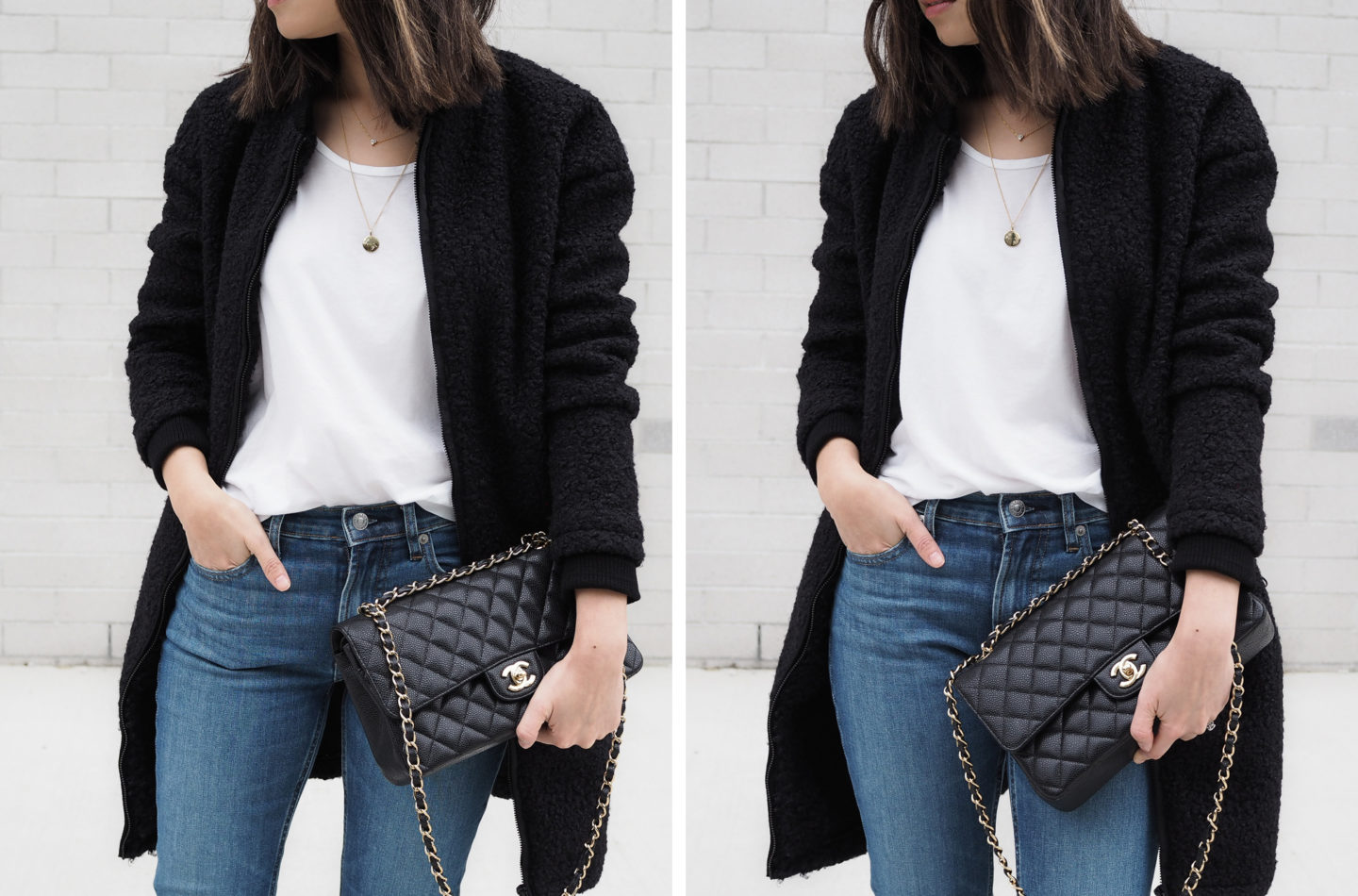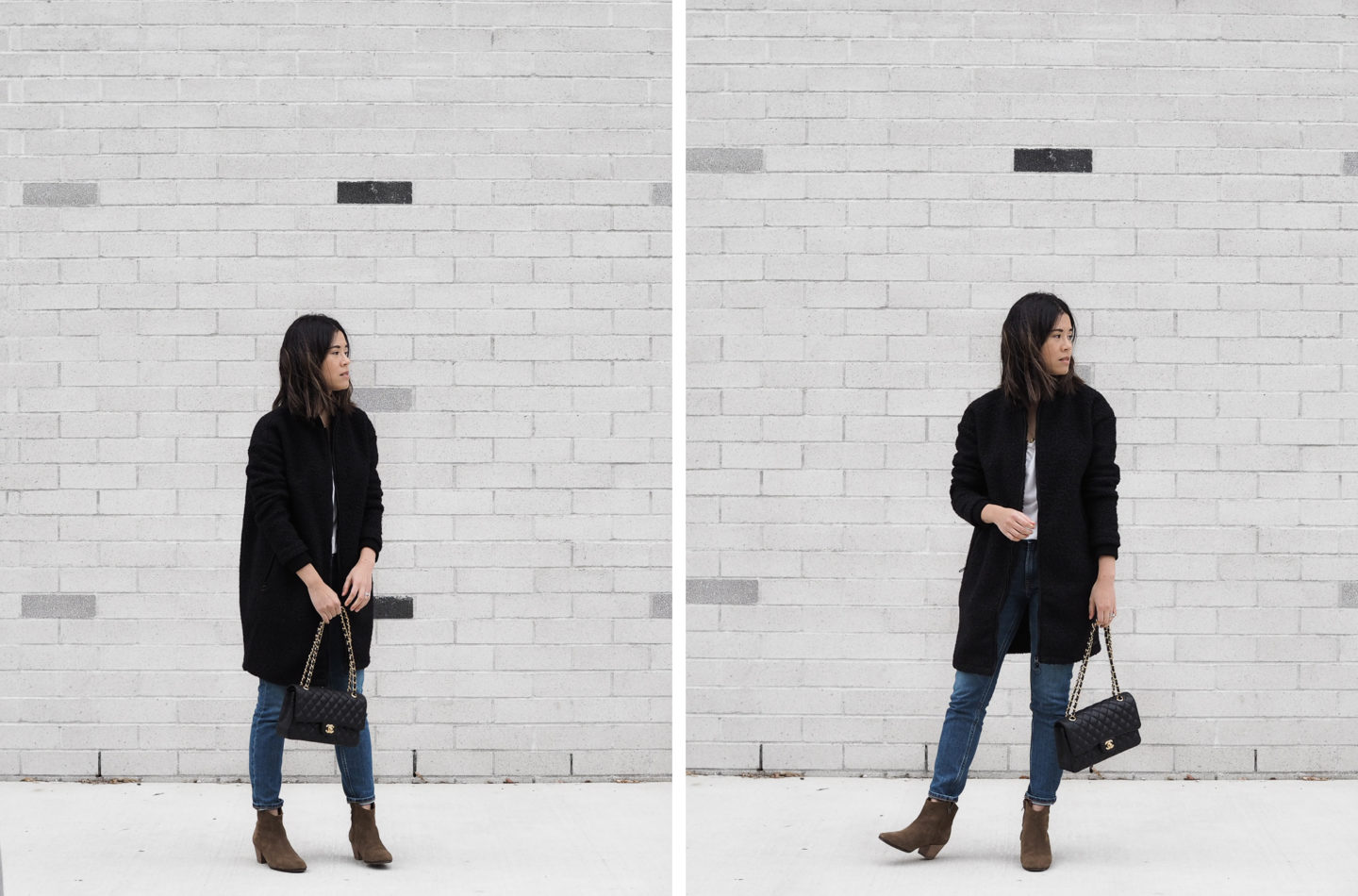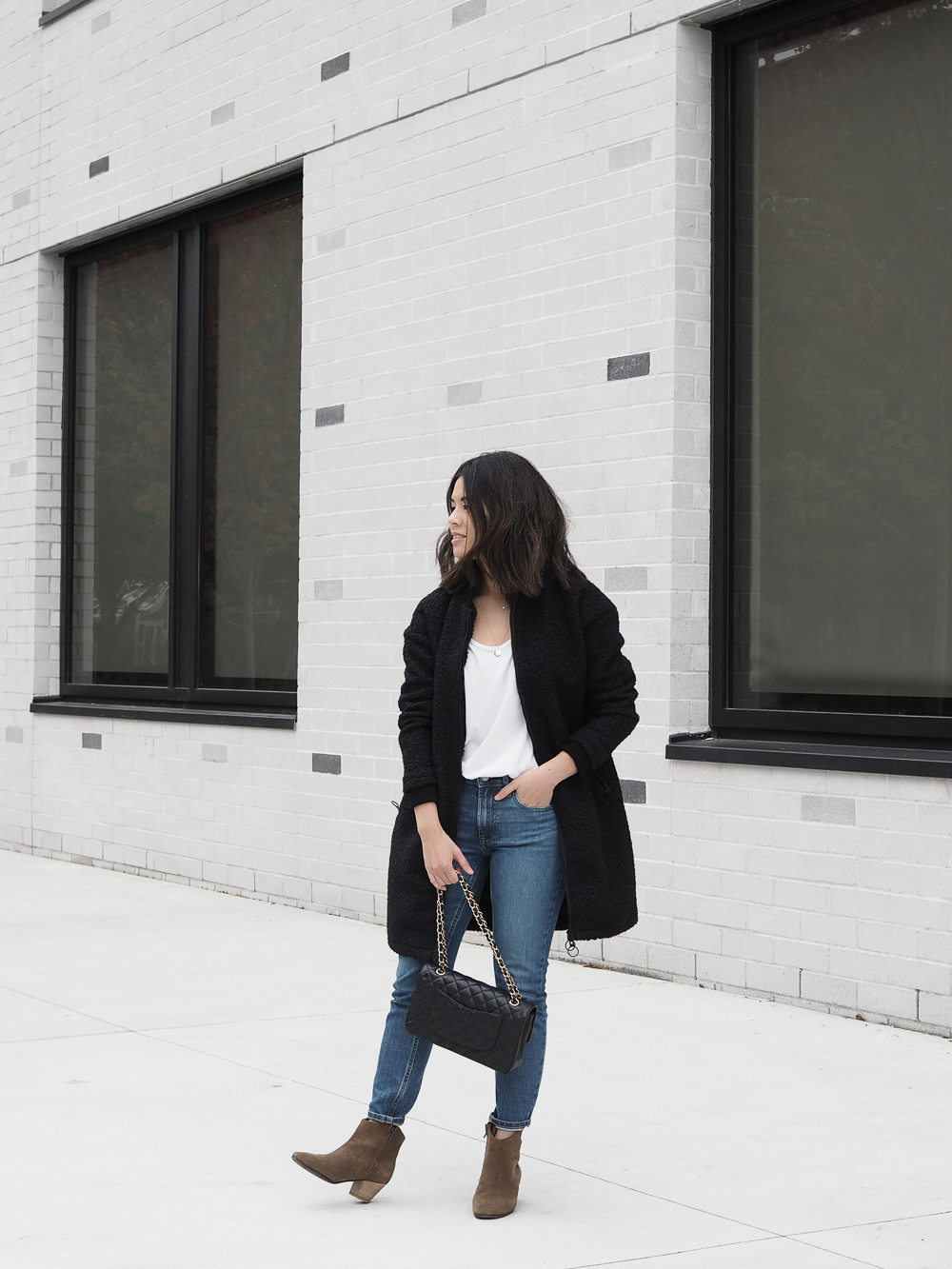 DETAILS.
Black coat:  Bench c/o (on sale for 40% off!)
Tee: Everlane
Jeans: Everlane
Bag: Chanel 
Sneakers: Isabel Marant, similar here with a better price!
Necklace: Mejuri (use code "Irene" to get $20 off!)
Until next time, girls.