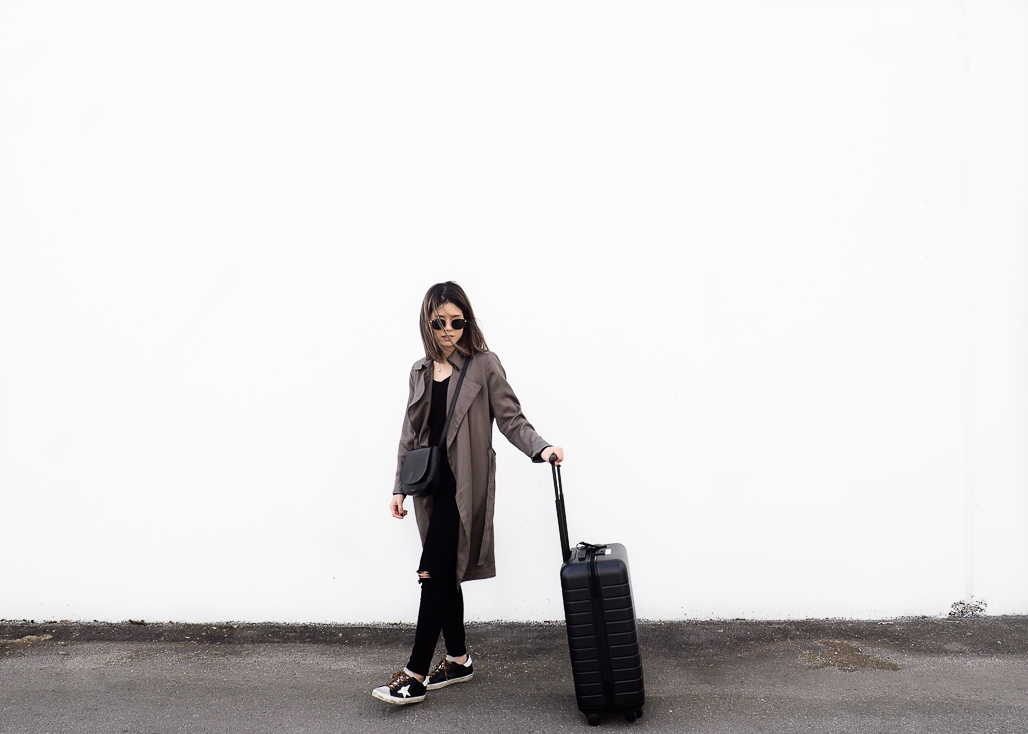 It is always exciting when an innovative business tries to change the way their industry operates. I love learning about new things, especially when they make my life easier.
I needed a new suitcase for my New York trip. Well.. not so much of a "need" for a new suitcase than I wanted a new suitcase. One that's better made and that I can haul around the city effortless. Away was the one and only choice for all that. Their luggage pieces are made with high quality materials (e.g. inpenatrable shell) and at very reasonable prices.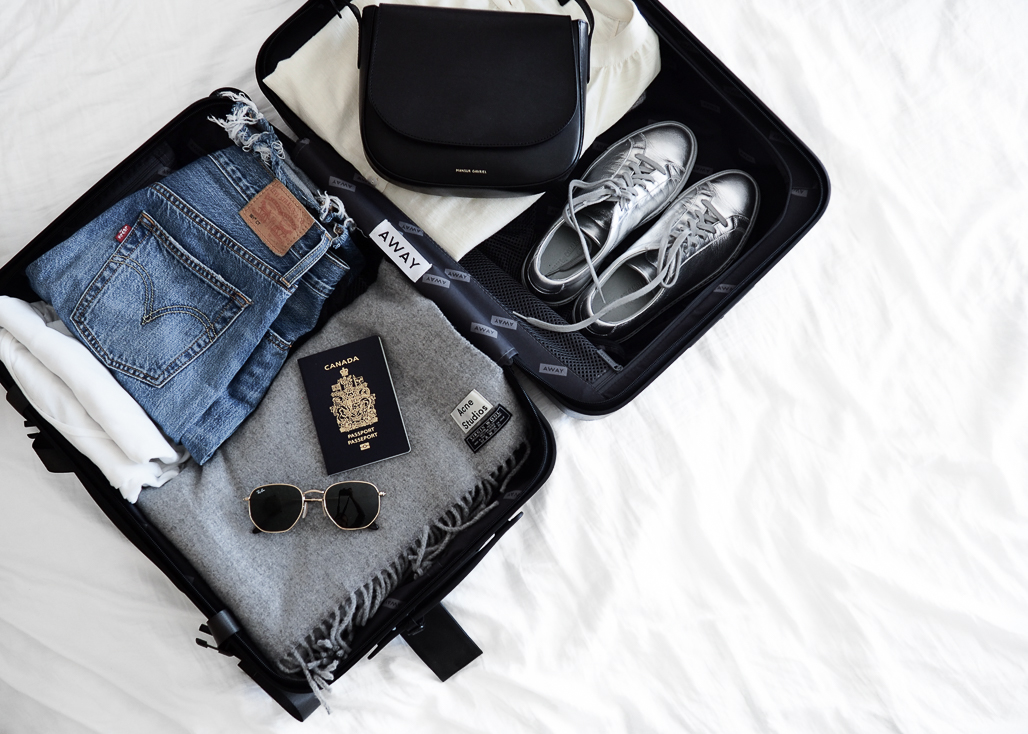 Their suitcase has two compartments, the left and the right, or the top and the bottom. The top part (where my shoes are in the picture) has a zipper so that you can keep your hard objects in place. I put my shoes, toiletry bag, charging cable, hair dryer and curling iron in this compartment. On the other side, you can keep your clothes, or the things that are bigger, won't move around as much. The buckles will help reduce the size of your clothes, while keep your belongings neatly in place. I will confess; my luggage does not look this neat when I went to New York. Afterall, my tightly packed luggage is not very aesthetically pleasing.  I also didn't pack everything shown in the picture above because I realized it gets pretty hot in the big apple, and I didn't need a scarf.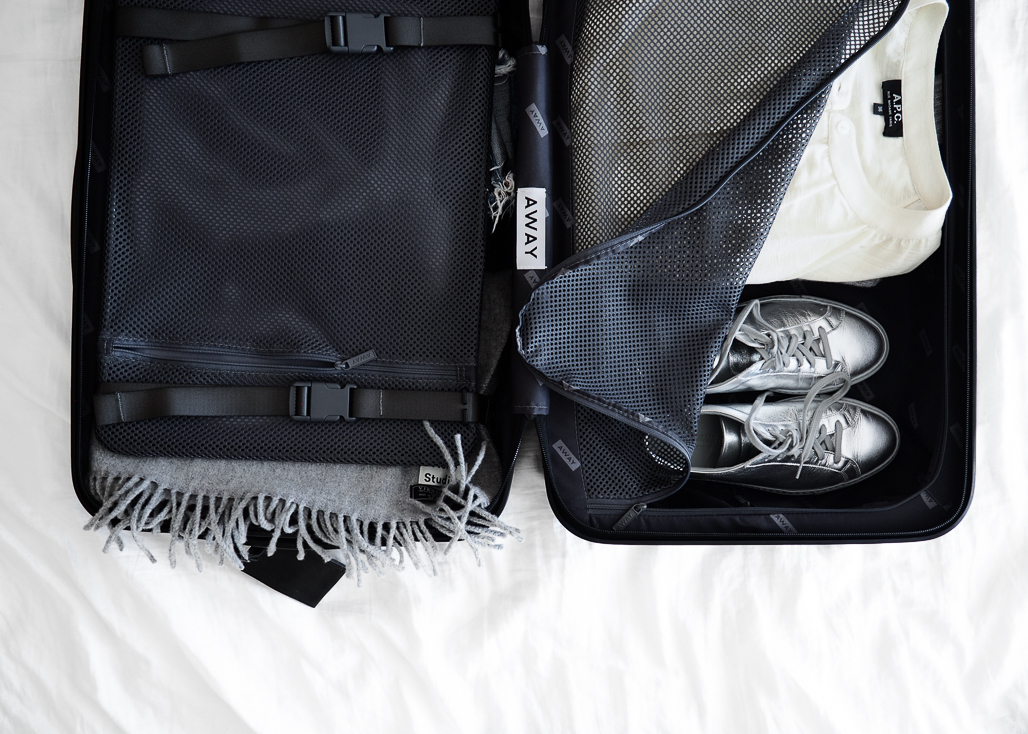 For the times when you have to open your suitcase in the airport to get something out, the compartments make things look super organized!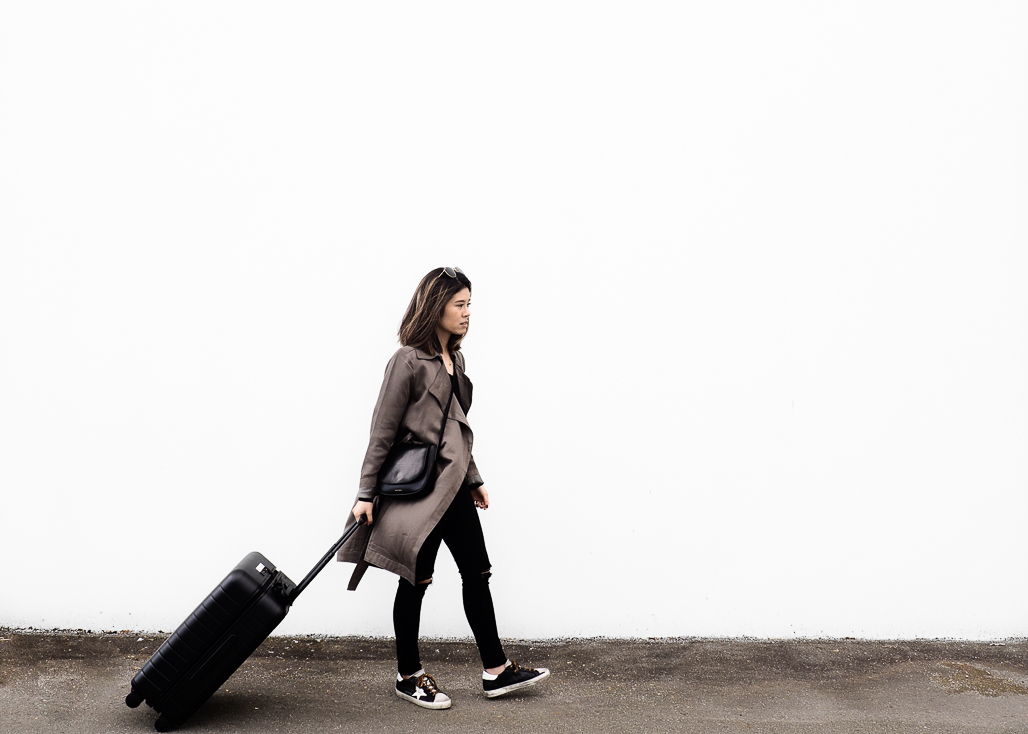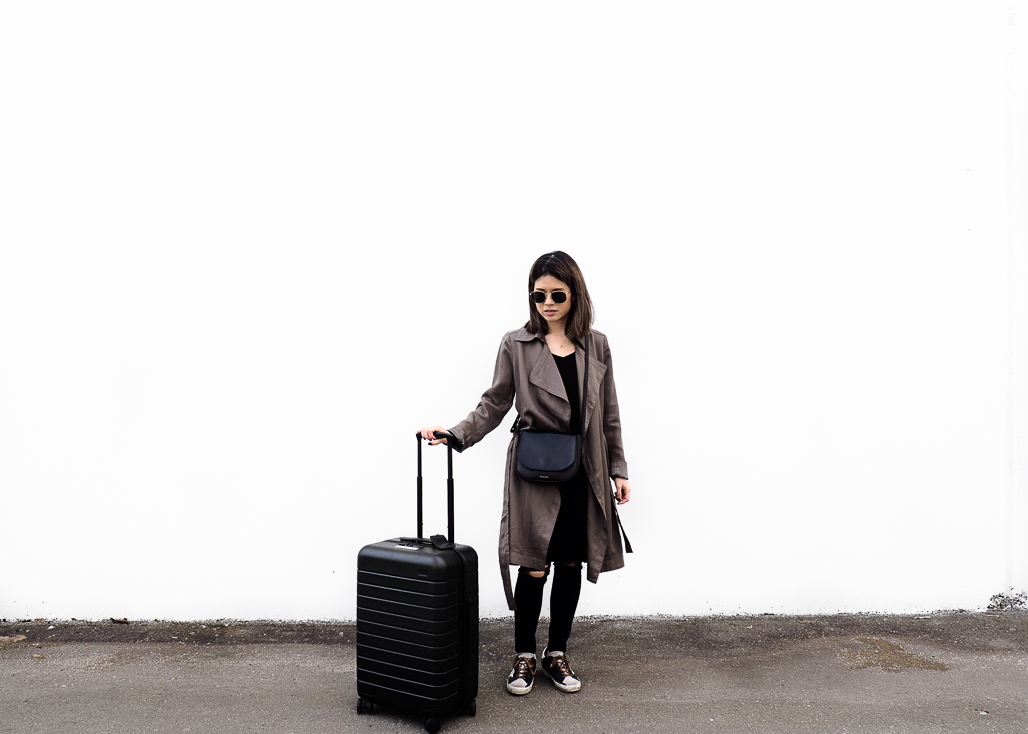 One thing that simply blew me away about Away suitcase is that you can charge your phone while you travel!! This is such a genius idea. I was sold when I saw this feature. I mean, do you ever have enough battery on your phone when your flight was delayed? or when you need to catch that 6:30am flight and you forgot to charge the night before!?
The suitcase's battery is built in for The Carry-On and The Bigger Carry-on size. The battery is compliant with FAA, TSA, and DOT regulations. Powered by an USA cord, the battery can charge can charge an iPhone five times and an iPad more than once. Does a suitcase get any better than this? I think not.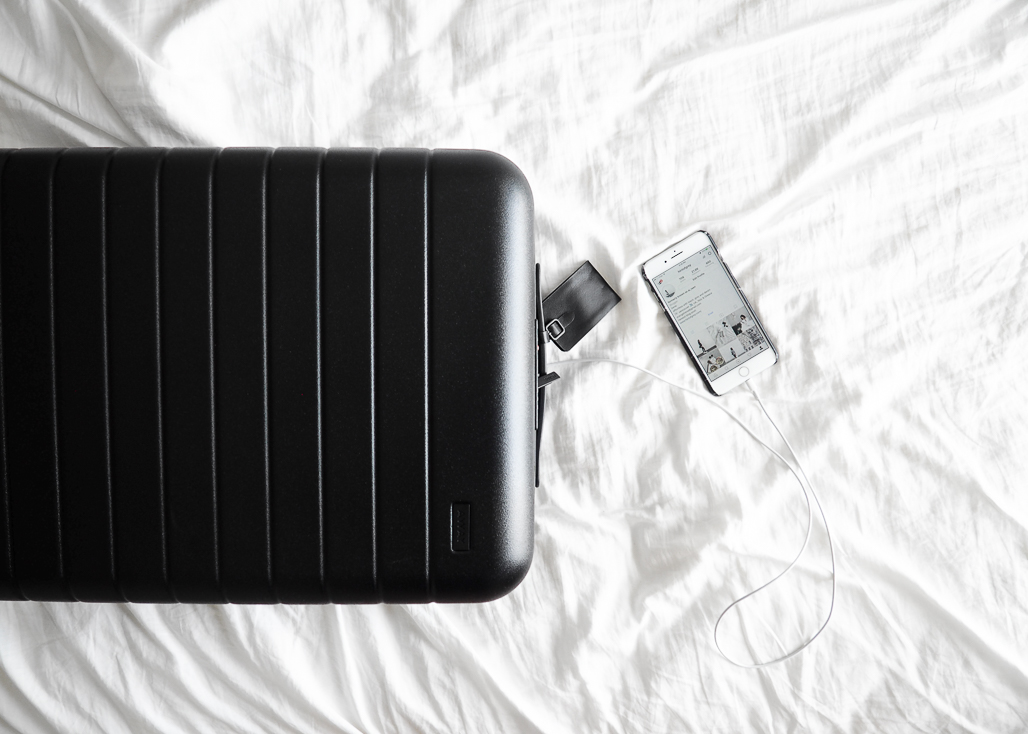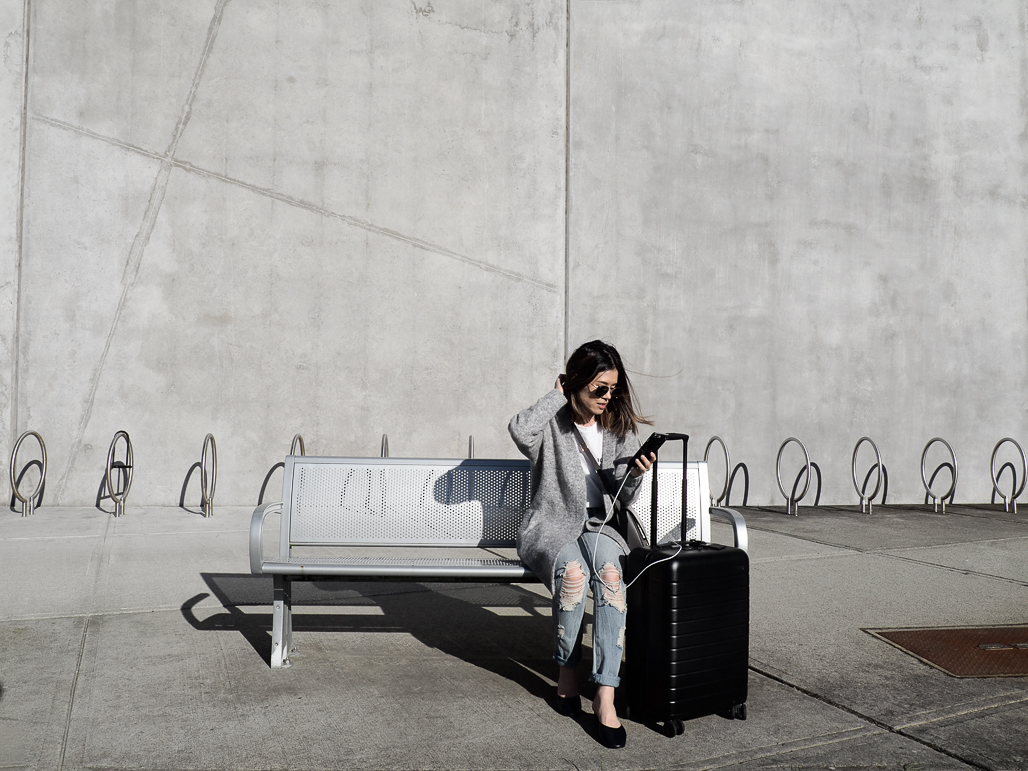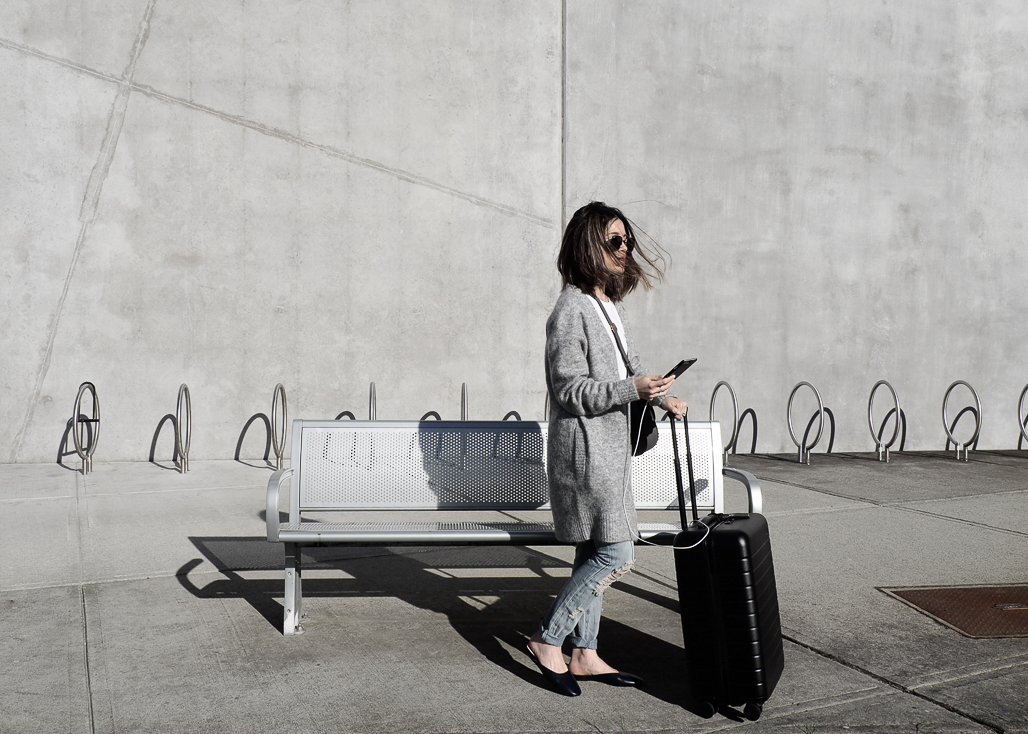 Thanks to Away for sponsoring this post.
DETAILS.
Outfit 1 –
Trench coat: Aritzia. Similar here
Tee: Everlane
Jeans: AG Jeans. Similar
Outfit 2 –
Cardigan: Acne Studios. Spring option here
Jeans: Unpublished (c/o)
Mules: Everlane
Tee: Everlane
Bag: Celine
Check out my other New York posts here:
New York Outfits
Away with Away