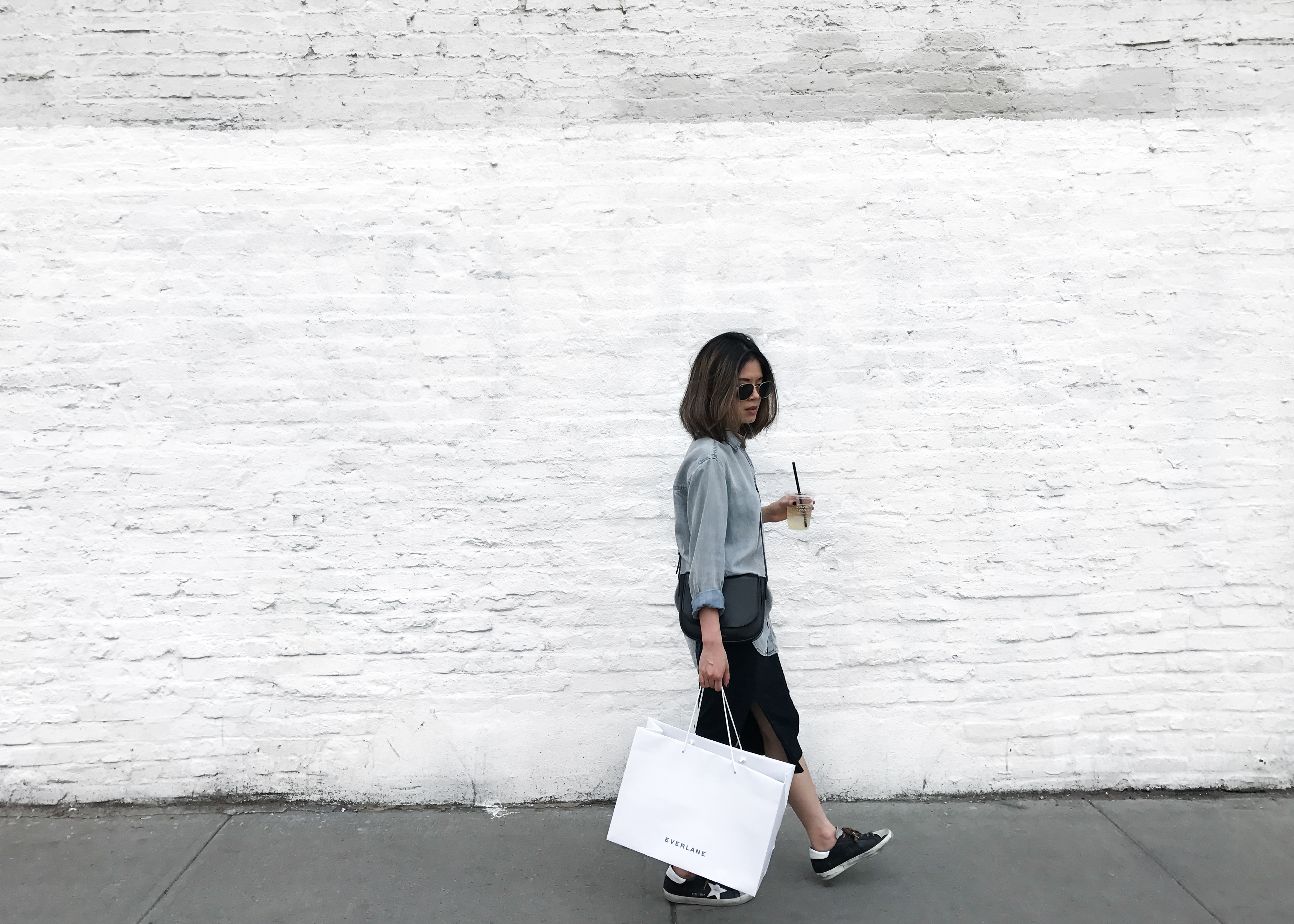 I love to travel. Love seeing different sights, different people and different culture. Every time I go somewhere, I feel like I become more complete. New York is such a unique and vibrant city. I've been so excited about this trip ever since we booked the tickets. Being on the west coast, I know that the weather warms up quicker on the east coast. I, therefore, tried to pack light layers for both breezy spring days and warm spring days. We were lucky enough to get a really warm spring day!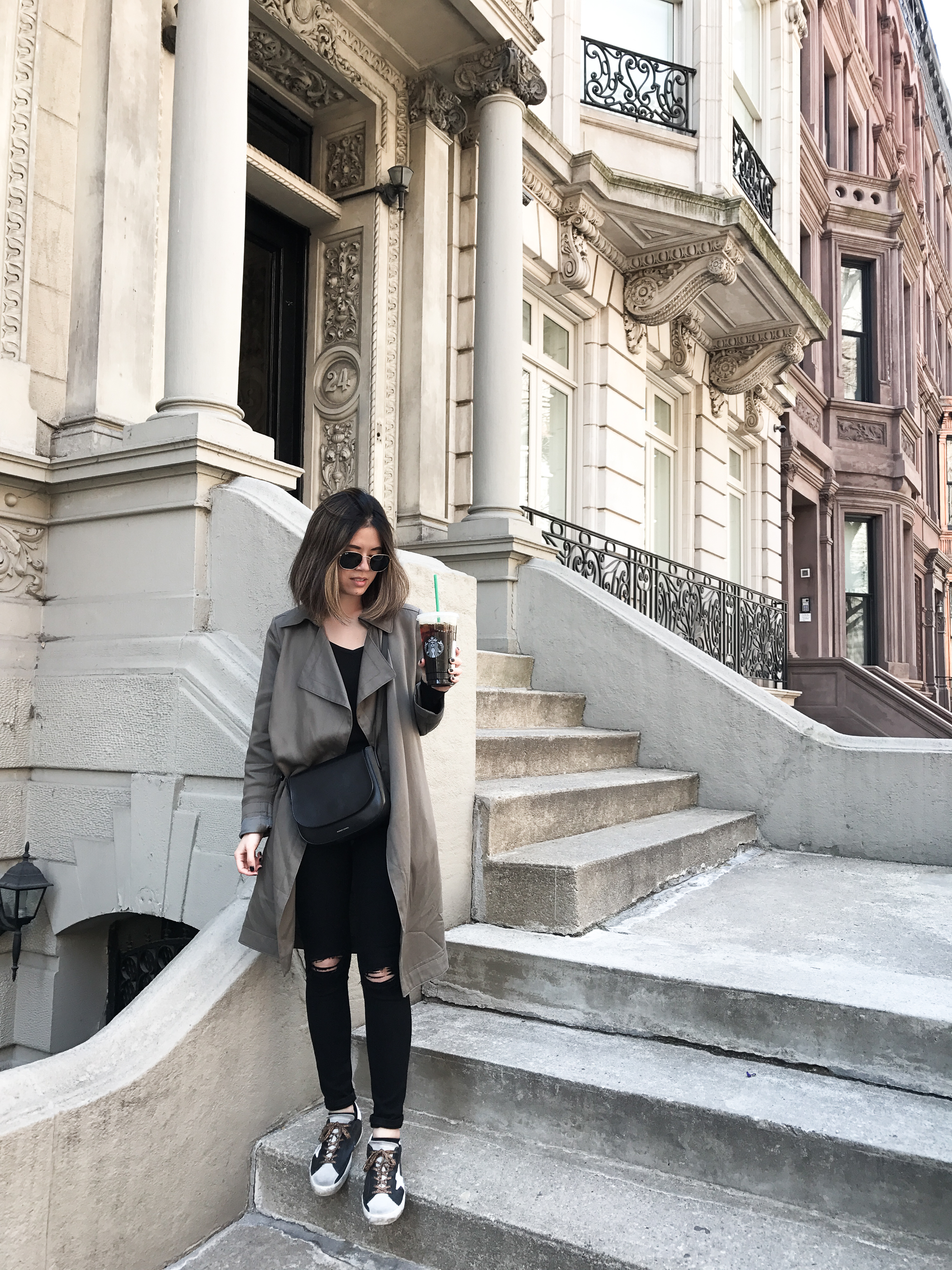 If you've read my first blog post, where I talked about how I am crushing on trench/duster coats this spring, this is my second trench coats this season. We all want to look good and be comfortable while traveling (just traveling, or everyday?), a trench coat is the perfect item to include in your packing list. It's so dynamic that you will look put-together even in sweats! The trench coat I am wearing here is from Aritzia. I sized up so I can wear light layers inside. For reference, mine is size S.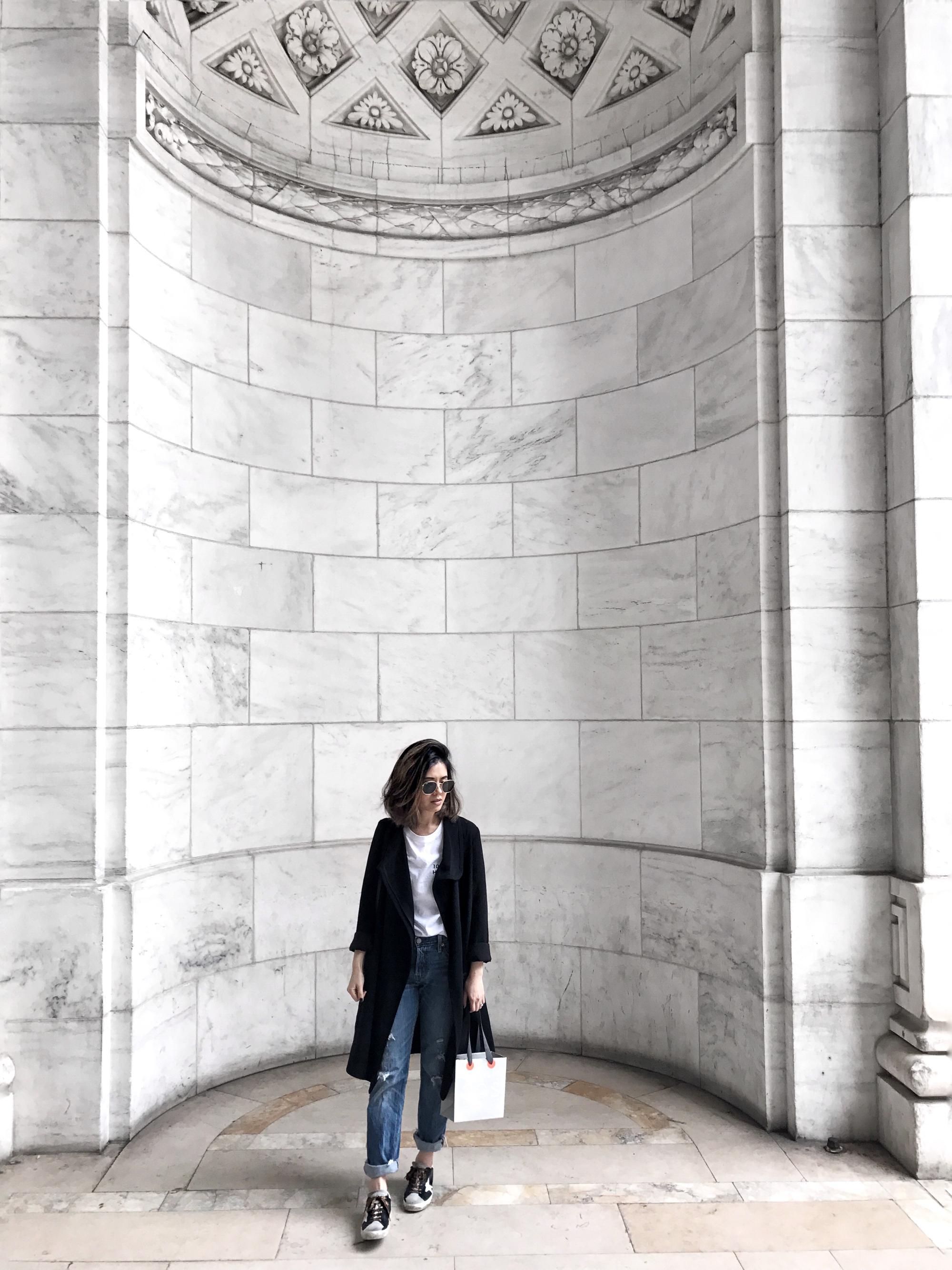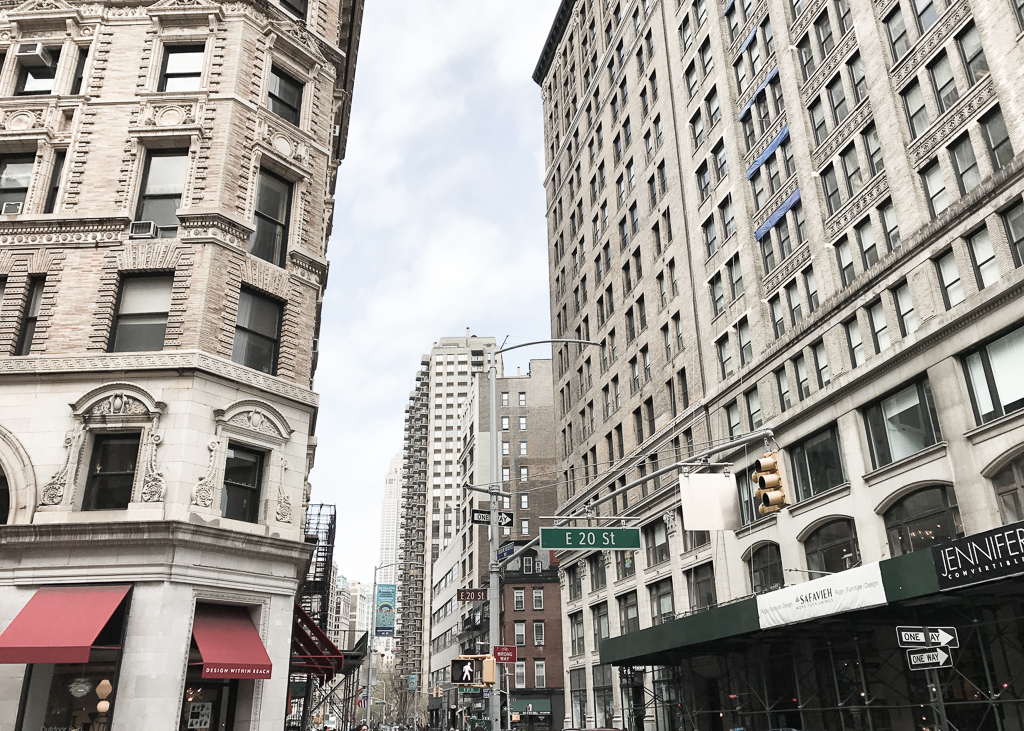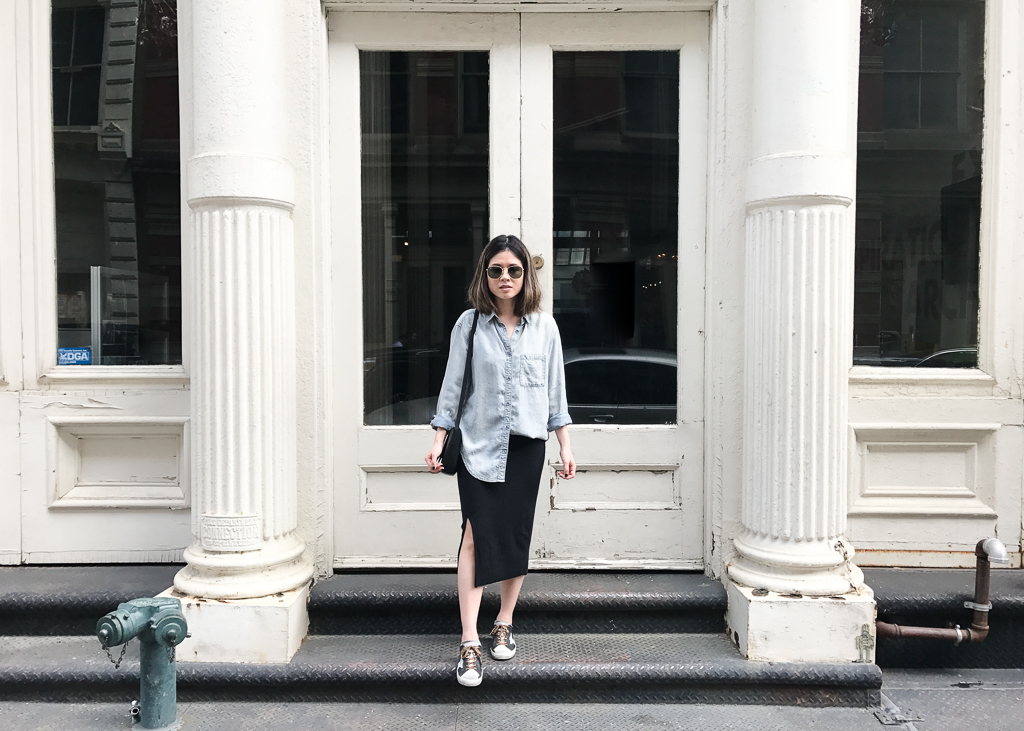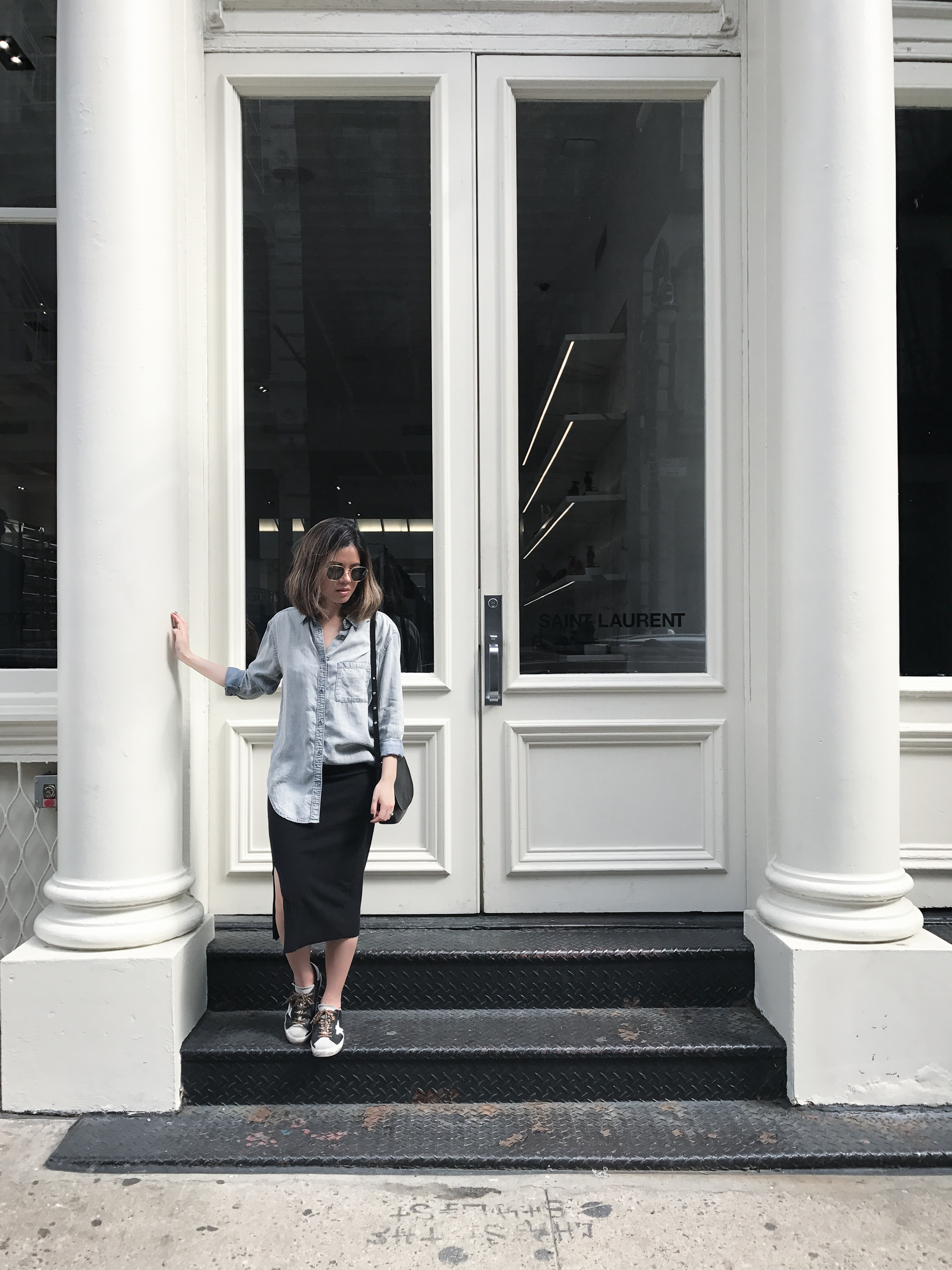 I am very fascinated by New York's architecture. It can be so modern and so nostalgic at the same time. The city has a bit of European flare and yet it houses one of the busiest stock markets in the world. Simply fascinating. We were lucky enough to get a really warm day when we went to Soho. The temperature went up to 28 degrees in the afternoon! woohoo! With that weather, I had to show some skin. I went bare legs with stretchy fitted skirt and the chambray shirt. One tip in choosing the bodycon stretchy skirt is to size up. I sized up this one so the elastic wouldn't feel so tight at the waist (and I can actually eat – super important). It's also not so tight that I feel the urge to cover my exposed butt. This trip was my second time visiting the big apple. Still fabulous and still charming!
DETAILS. (from the top)
Outfit 1 –
Chambray shirt: Aritzia. Similar here and here
Fitted skirt: Zara. Similar here (very affordable) and here
Bag: Mansur Gavriel
Sneakers: Golden Goose. Similar here and here (different but also love)
Outfit 2 –
Trench coat: Aritzia. Similar here
Tee: Everlane
Jeans: AG Jeans. Similar (this one looks so slimming, I am contemplating…)
Outfit 3 –
Trench coat: Aritzia. Similar here and here
Tee: Everlane
Jeans: Levi's. Similar here
Check out my other New York posts here:
The Time New York – our hotel
Away with Away